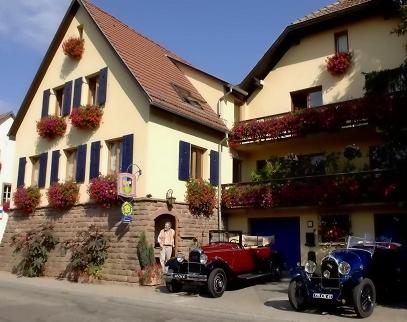 A HEARTY WELCOME !


If you stay at least two nights or more, you will get reduction on our fees (up to 25%) depending on how long you stay ! (See Prices)
From our guestbook: "Thank You for havin us here, we had a great time and can only recommend it wherever we go..."- DMCN South Africa
Do You want to dinner ? Do you want to have a meal ? Gastronomic event?
<![if !supportEmptyParas]> <![endif]> Welcome to Boersch

in the Taubert family B&B on the Vine and Roman Route of Alsace (France) !
<![if !supportEmptyParas]> <![endif]>
Boersch, a little medieval town in the vineyards, is at 5 min. from Obernai, 15 min. from Mt Ste Odile, 20 min from Strasbourg and 40 min from Colmar. It is pleasantly situated among the main centers of interest of the Alsatian tourism: Gastronomy, vines, folklore and traditions, roman art, hiking, feasts and animations... You will be fascinated !
We offer you: to rest, to break up;

to relax in a confortable and pleasant area :
Present in Automobile Association Guide
Our philosophy

we have make our rooms as we want to find them when we are in holidays !
BEDROOMS

Two bedrooms ( Delphi and Darjeeling) with three beds.
One bedroom (Sevilla) with one double and one single bed. Quality bedding. Sheets provided. It is possible to have an optional baby bed. In each room, you will find a nice and small lounge area.
In each of the 3 bedrooms (central heated), you will find a fully equiped bathroom with shower, washbasin and toilets. Towels for everybody.

A hearty breakfast: tea, coffee, chocolate, bread, butter, home made marmelade, cakes, fruit, dairy products, cheese will be served to you in a living-room.
It will be served from 7h30.
<![if !supportEmptyParas]> <![endif]> In the living-room (lounge area), you will also find games, books and magazines, touristic informations, a little shop.
Outside, you will enjoy a panoramic garden

(outdoor furniture) with view to the Mont Ste Odile and to the Boersch old town from where you may start for a walk to the vineyard or the forest.
<![if !supportEmptyParas]> <![endif]> For your car: a private parking

in front of the house. For your bicycle: a closed garage.

<![if !supportEmptyParas]> <![endif]> If asked: Alsace discovery, seminars and professional trainings.

<![if !supportEmptyParas]> <![endif]>

Tourist Information

We speak english.

<![if !supportEmptyParas]> <![endif]>

Do You know that it's worthwhile to stay at least two nights or more in Alsace and in our chambres d'hôtes (B&B) ?

RESERVATION

(0033) (0)388 95 93 06

We like to hear your voice !
More Information: Click Contact
To take care of everybody's wellbeing and health, our house is a non-smoking area and without pets !
Thank You for your kind visit on our website and see You soon in Alsace !
Thank You Moira for the translation !
Merci Danke Thank you Grazie Gracias Obrigado Danku Tak Tack Kiitos Dziekuje Köszönöm Dêkuji Dankon Go raibh maith agaibh Diolch Εfakaristo Spasiba Teshekkür ederim Xie xie Arigato